The more event sponsorships you obtain, the more event dollars go to your cause.
Fundraising events offer many benefits to nonprofits, including a chance to engage donors, promote awareness for your cause and have fun. But the #1 reason we have events? To raise money. That means netting as much revenue as you can while trimming expenses.
Securing event sponsorships is a practical way to do both.
In this handbook, we'll explain the nuts and bolts of all you need to succeed, and the key is this: Focus on what potential sponsors want.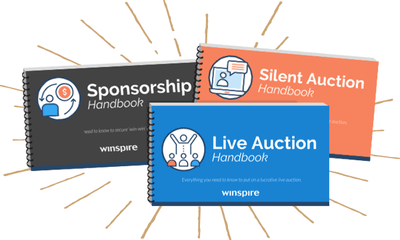 Charity Auction Handbook Series
If you like this handbook, we invite you to download our entire suite of Charity Auction Handbooks. This multi-part series details best practices for the most common aspects of major fundraising events—all free of charge! Available now:
Event Sponsorship